IAVA | May 1, 2023
READ: Moral Injury—The Ongoing Fight To Bring Our Afghan Allies Home | Opinion
Their pleas come in at all hours and without warning.
"Hello sir, I worked as an interpreter and have been left behind. I am in a very tough situation. Please help me."
"I worked with the U.S. army in Kandahar for 12 years. I need your help. Please assist me."
"Last night the Taliban started searching house to house. Please help us."
"They shot [him] in front of people in the bazaar. The Taliban have accelerated the killing of former soldiers. Please sir, help me."
It's been nearly two years since the fall of Kabul. For those of us dedicated to ensuring the United States keeps its promise to its Afghan allies, the Afghan evacuation remains very much ongoing.
A recent report from the Iraq and Afghanistan Veterans of America and the Association of Wartime Allies brings the scope of the tragedy into focus. Since their takeover, the Taliban have engaged in a systematic country wide effort to hunt down and murder the Afghans who previously worked with American forces. Their efforts thus far have been tragically successful and continue unimpeded.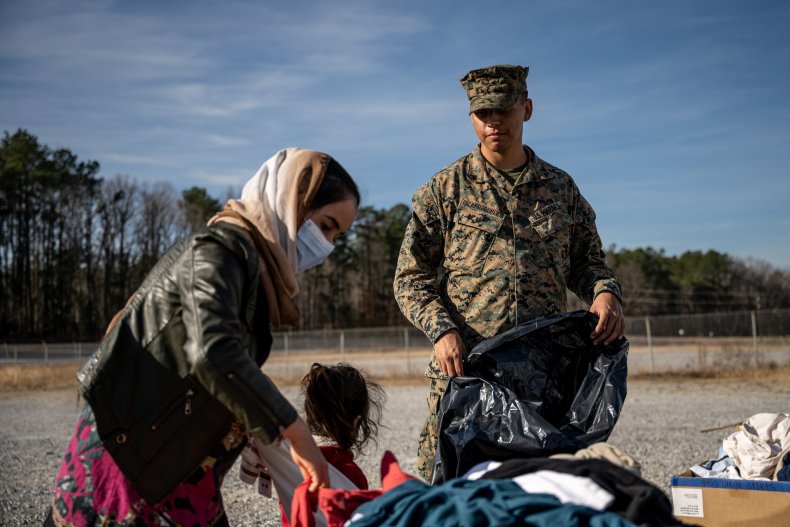 The Taliban campaign of reprisal killings has led to an increase in veterans reporting moral injury from 42 percent in the summer of 2022 to 48 percent currently. A moral injury is the most insidious thing—it is an injury of the soul. For some veterans, the burden of that guilt can be too much to bear—leading to suicide.
The report also makes clear that at the current rate of processing, it will take the U.S. government 31 years to address the existing backlog of the Special Immigrant Visa (SIV) applications and bring our Afghan allies to safety. Our friends don't have 31 years—the Taliban will kill them all long before we process their visas.
The House of Representatives recently held two hearings on the Afghan evacuation as part of their oversight efforts. While those leading the hearings claimed to hold them in the name of those who served in Afghanistan, they have, thus far, refused to heed our call to action, pass the Afghan Adjustment Act (AAA), and help get our allies home. As a result, currently, more than 300,000 Afghan allies remain left behind in Taliban hell.
Every applicant must undergo an in-person interview at the U.S. embassy in Kabul in order to complete the visa application process. Slight problem—the U.S. no longer has a functioning embassy in Afghanistan. The State Department claims that under current law it can only hold these required interviews at an embassy we no longer control.
The AAA would allow the State Department to hold the interviews elsewhere (other American embassies around the world, online, et cetera). Until Congress passes the AAA, the State Department cannot do anything to progress the Afghans' visa applications, leaving our allies in perpetual limbo. Their best hope for escape is when we enact the reforms to the SIV program prescribed in the Afghan Adjustment Act.
Each passing day we allow the deadly status quo to remain—a non-functional SIV program and a Taliban campaign to hunt down and murder our allies—is a gift to our enemies and their heinous efforts. Our allies' pleas for help continue to haunt our nation's veterans daily. They still believe that we are a people who keep our promise—that the Americans they served with still have their backs.
And we do. Veterans remain prepared to help every single Afghan ally get to safety and begin life anew because they had our backs when it mattered most. Our frustration is that thus far, we remain almost powerless to assist those who so desperately count on us. With each murder, the Taliban engender an additional and unnecessary injury upon our veterans. Only by keeping our promise, and helping get all the remaining Afghan allies to safety, can we begin to mitigate the profound moral injury impacting our veterans.
Matt Zeller is a U.S. Army veteran and a senior advisor to the Iraq and Afghanistan Veterans of America.
This piece was originally published in Newsweek on May 1, 2023.